Diggin deep back into the XC realms was something I took with a heavy grain of salt. The last few year's I'd grown partial to the ways of the modern gravel bike but that was mainly because I knew that style of bike had definitive limits to save you from gettin too deep. Long story short, Orbea NZ were low on stock for the new Terra, so along came a demo ride of the Alma M50 *Spoiler alert* I'm now 12 months into riding this bike and still haven't given it back.....
The 22 Orbea Alma M5o is orbea's lower budgeted carbon XC hardtail (relatively unchanged to the latest 23 variant too) that, for the price, is extremely affordable. On the whole the M50 is almost aptly spec'd with an XT mech, Deore drivetrain and in our case due to the pandemics shortages,  an up-spec'd DT swiss X1900 wheelset. Boasting a modern 68 degree head angle and other major geo numbers not normally found in the category, the M50 sits with a slightly more progressive set of numbers than it's counterparts so paper capabilities look strong.
Being an XC bike one of the most crucial points often falls to the age ole weight weenie mantra. On the whole the M50 is not super light and weighs in at 12.5 kg's in a large. This is largely attributable to the fork and the predominantly  alloy bolt on cockpit so there is definitely lots of room for weight savings.
The major questions from the outset really do point towards 2 major areas of component neglect being the fork and brakes. The fork felt like a major downgrade and for the extra $200 odd dollars in upgrade, a reba might have been a better option here given that it also saves a whopping 700 grams! The brake department too felt like a serious back hand to the bikes ability. The awful MT201's make for a slight regurgitate in your mouth and again, a simple $100 or so more and they could have gone up a step to something like the M6100's. We're not sure if it fell into supply chain issues, but even for their lowest tier XC bike, you'd expect a carbon framed bike to be a touch higher in performance.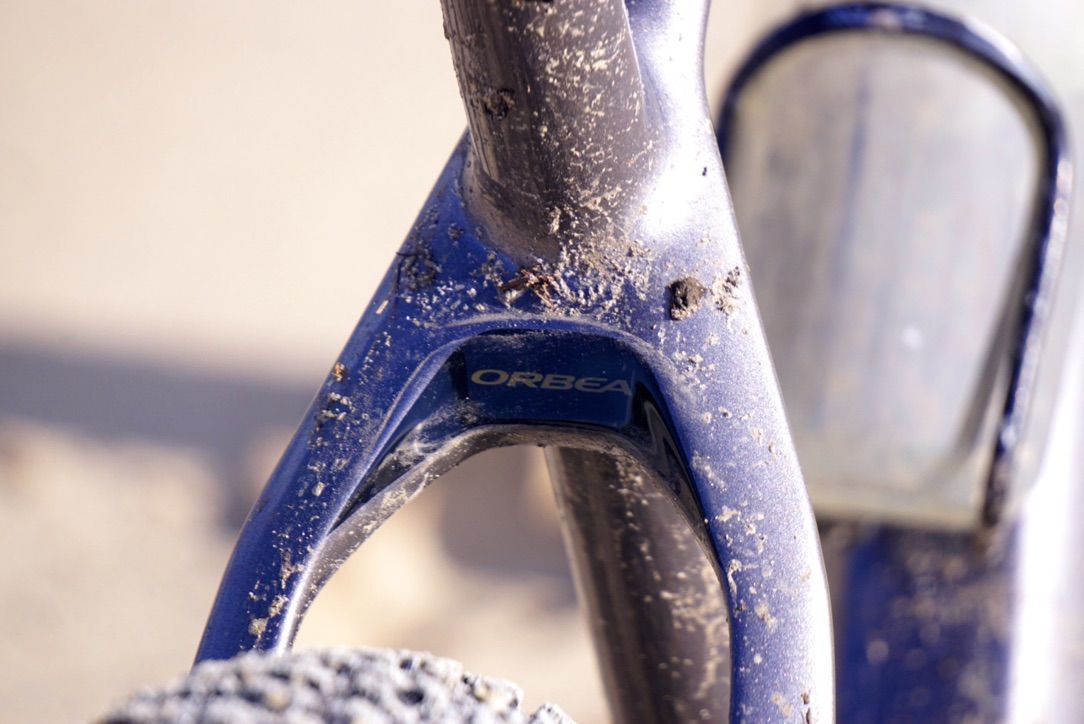 The looks on the Alma are striking. chiseled edges and creases, angular tubes and subtle curves where they need to be make for an elegant frame. As always the paint finish from orbea is perfect and with some subtle colour matched upgrades, you can turn an xc based bike into something quite unique.
Trailside
On the trail however, this bike shines! The lower tiered stuff aforementioned can quickly have a blind eye turned due to the overall handling of the alma. The alma has a distinct trait to roll faster than any bike I think I have ever ridden (even with tyres that aren't massively known for being the fastest of rollers). While out on winter forest access road rides, I would regularly hit 65km/h+ without a single stroke of the cranks on the longer downs. This translates instantly to an efficient and fast climber that I often found sprint pace found normally on something like a gravel bike. If I could explain this in 3 words, I'd say quick, snappy and capable.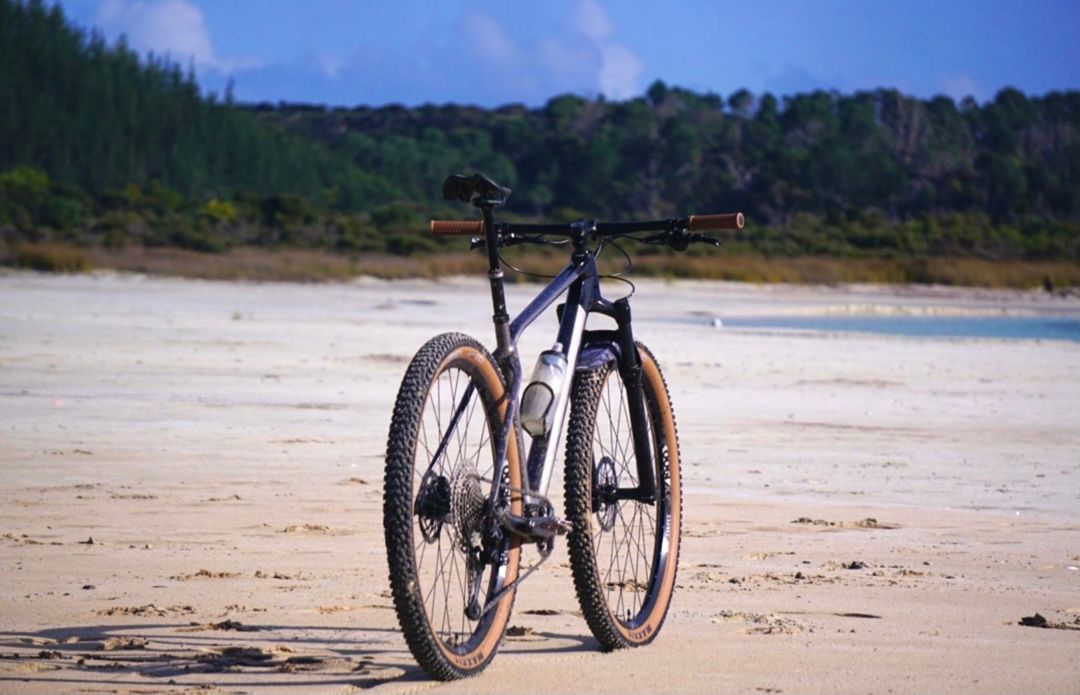 When it gets to riding trails that aren't magically groomed and having ridden primarily 140mm+ travel bikes for the last 6 years, I had come quite used to the monster truck lines. Reigning the xc styled bike in on the downhills was in reality not needed as much as I had thought. The somewhat slack front end really allows you to let the brakes go a whole lot when the trails throw a little surprise at you. I did however really struggle to ride trails with a seat jammed up my ass. So first stop on major changes was a PNW components rainer dropper post.
As I suspected, the fork severely hampers the performance of the bike but only when you really push it but that more a case of just scalling my aggression back a heap and riding it for what it's designed. Truth be told I tend to ride the bike in lockout for the bulk of the time. As you will see on the wider Alma range, there is a rigid fork option which I suspect would be a serious contender in the flat-bar gravel bike category. On top of the forks, the brakes really let the overall feel down also. The power is sufficient, but the 10 finger levers are just awful. A simple upgrade here would be a set of deore M6100 levers.
The inclusion of the dropper also came with a couple of extra bits being a set of rekon tyres for the conditions here in Northland NZ and a set of grips. I must say I would have preferred to put the newly released tan ESI foams, but in the interest of matchy-matchy and neeeeeding it then, I took the Funn option. The tyres too came as a bit of a default buy after slashing one of the factory tyres on my second ride and making a mess associated normally with a weird fantasy.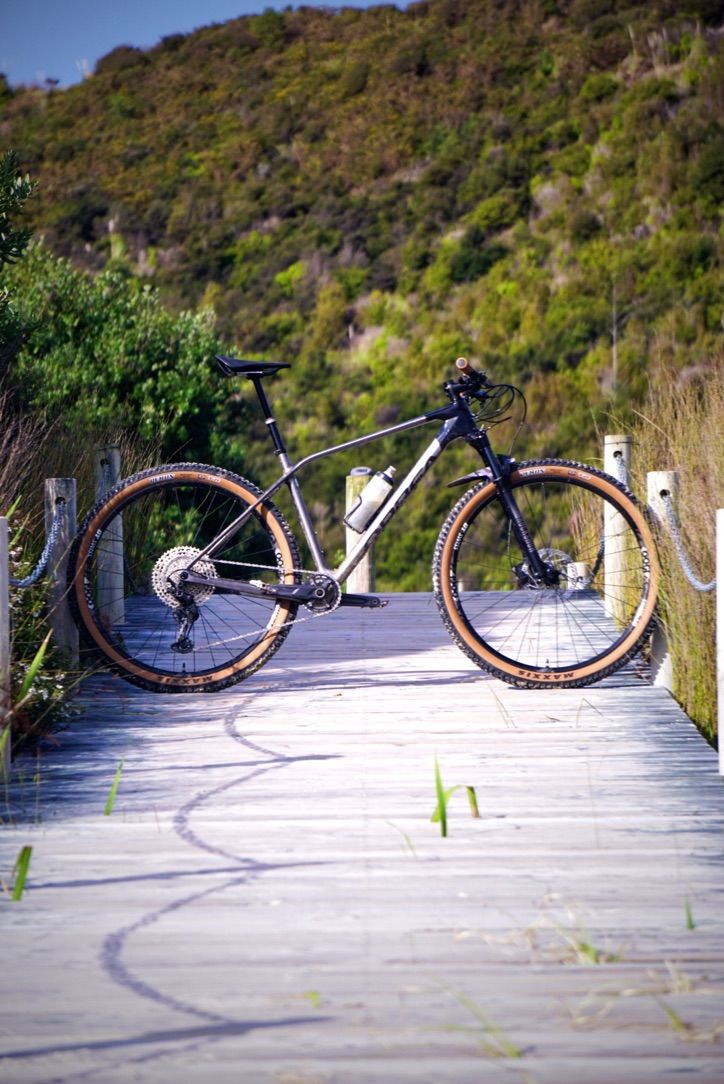 Pros
Good looks
Aggressive geometry for its class
Good quality groupset for its tier
Great wheelset
Extremely capable
Afordable
Cons
Fork is heavy
Brakes are awful
not the litest build
If we look at who would normally buy the Alma, I suspect that most people who are after an XC carbon hardtailI will likely be looking for a weight saving with a higher performance fork and likely a carbon set of hoops. If we look at the M50 for it's RRP of $4,499.00, it fit's into a category of people that are likely to buy it are either going to be newbies, or very low level XC riders who want a bike to just pedal or someone like me who just wants a slightly more capable gravel bike. Me personally, I'd look at the step above for the M30 with a $1000 extra cost that would get almost everything I would change anyway. Could you just upgrade the M50 to achieve the same for $1k? maybe, just. Would it be easier, probably not. Would it actually perform better than how I am riding it? Absolutely not. This bike to me is the best of the gravel and XC worlds combined and gives me one seriously capable winter pedaller.
Thanks to Brian From Orbea NZ for the long term loan and review on the M50. So much so that I have inducted it into my all time stable and have a penciled fork upgrade on the cards....